With all the news about climate change emerging both online and offline, we're looking for ways to keep our homes as energy and environment efficient. However, that is hard during the winter months when we hugely rely on gas and carbon dioxide emitting heaters as well as electric devices that are huge energy spenders. Fortunately, there is a plethora of quality manufacturers that design energy-efficient space heaters. In this article, we've dedicated a list of the 10 most energy-efficient space heaters you can use to warm your rooms or workspaces. Additionally, we delivered a buyer's guide that will help you make the right choice.
We know how hard it is to shop for space heaters, especially with so many options available on the market. Additionally, there are a lot of confusing features that, more often than make no sense. Below are sections that will help you in determining which energy-efficient space heater is the right for you.
How to choose the right energy-efficient space heater?
But, how do you pick the space heater that will be most convenient for you? That depends on your needs. There are different types of heaters that we will display below. While some heaters function based on liquid fuel, others are entirely based on electricity and infrared energy. All of them sport energy-efficient options, although each one of them works only on special occasions. The different space heater types are listed below:
Ceramic space heaters – These heaters are some of the most popular types available on the market because they boast power efficiency, low prices, a lot of great settings and features, as well as safety switches. There are various sizes and dimensions ranging by price. There are mostly two materials used in their construction and that are ceramic and aluminum. Ceramic is used as a heating element, while the aluminum is used for the baffles. The ceramic element emits the energy while the aluminum element absorbs the heat, and thanks to the fan blow it inside the room. They can cover up to 200 square feet, which is sort of smaller compared to other types (for example most of the infrared heaters.)
Oil-filled space heaters – Oil-filled radiators are often confused for the traditional radiators and overlooked. It doesn't get drained and doesn't get drained, so that way you don't have to do a refill. The liquid inside gets heated while the radiator emits the heat across the room. The heat takes some time to fill the room, and in the process, those radiators aren't loud. Most models come with accompanying fan that blows the heat, other than the older models that don't.
Convection space heaters – These quite bulkier and larger space heaters will generate quick heat and will save your energy when it comes to the electricity bills. There is often only a silent fan that quietly blows the air towards the room, although many more models come without it. These heaters, because they don't have a fan, are beneficial for people with chronic diseases like asthma, allergies, and other respiratory problems. Despite the absence of a fan, these models won't cause any humidity in the room and will perform more than good. These heaters are often located in the bathroom so that they can absorb the humid environment because they are heavier than other types. They are often located in the garage or large workspaces.
Infrared heaters – Infrared has a different approach than others listed above. They won't quite heat up the air, or precisely the rooms, they are more suitable for certain spots, so they are more suitable for warming objects and people. The heat travels in rays and is radiated through a straight line. They work good in small apartments or houses, offices, and garages. The downfall is that they will usually stop working fast and once they do the heat existing in the air will dissipate. If you're interested in getting infrared heater, here's a list of the best-infrared heaters.
Features to look for
There are various features to look for in energy-efficient heaters; some are listed below.
Space – If you live in a smaller apartment or house, or work in a small office, infrared or oil-powered heaters should do more than enough. However, larger rooms and workspaces require larger heat output, as well as wattage that will establish enough heating along with traditional heaters. Also, some heaters won't perform well if they're located in rooms with a high ceiling.
Price – Price plays a great role in purchasing a space heater. Those with higher wattage, safety settings, and energy-efficient heaters will normally cost more, while more compact options will be more efficient. Some advanced heaters are equipped with LCD or LED displays that help display temperature better, and as such they are more expensive.
Power – Most powerful heaters boast wattage anywhere between 1200 and 1500-watts. Their heat output also depends based on power. Some eco-friendly options can boast up to 500-watts, although that while saving energy, may not be enough to heat a larger room.
Portability – Lastly, it's important for your heater to even fit in the room. There are many portable heaters available on the market. Some even come with mounting clips that help you mount it to the wall. Some are compact and easy to transfer without worrying you'll get burnt, while some are too bulky and can be a large obstacle when passing by.
Aside from these, there are also natural/propane gas heaters, electric fan heaters, and garage heaters that may catch your attention.
How to research the best energy-efficient heaters?
When it comes to electric space heaters, it's extremely important to know how to stay safe. Most good heaters are equipped with a safety trigger that will shut down the heater in case it starts acting up or overheats. However, nothing guarantees that you're fully protected from catastrophe.
Before buying an energy-efficient heater, it's extremely important to inform yourself about the safety systems that they boast. The functions are often highlighted by the manufacturer, as well as us in the reviews. Buying a heater without safety functions can be plain dangerous because all of us forget to turn it off every once in a while. Some high-end space heaters also deploy a function to shut down if they have reached the necessary temperature.
That said, given that these are electric components, it's important to be attentive to the electric strips and make sure that they are perfectly designed for your electricity-requirements. It's important to know that the more powerful appliances you have at home, the more powerful strips are necessary. Make sure not to overload strips with too many plugs, or that can lead to disaster, especially with infrared heaters.
10 best energy-efficient heaters
Without further ado, we're going to start reviewing the best energy efficient space heaters. We've focused on the best option overall, best budget option, as well as best premium option for users who expect its heater to outperform the competition and provide the next level of performance.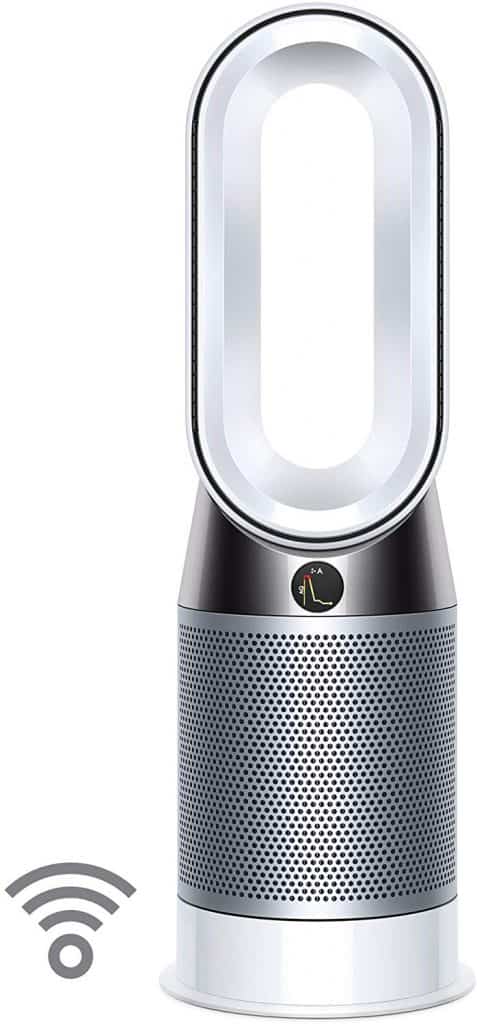 Price: $$$
Type: Fan heater
Heat output: No BTU measurements.
Warranty: Two years
Another product from Dyson offers many more features and futureproof designs compared to our previous option, although it may not be entirely accessible to everyone. This space heater comes in both heating and cooling functionality, but also works as an air purifier with backward airflow mode, which can purify the air without cooling or heating it.
It has automatic sensors that intelligently sense pollution events and initiate the purifications. It has an LCD display that allows you to change temperature, adjust the heating pace and provide reports about the air quality. It's worth noting that you can use it in both smaller and larger rooms as well as offices and workspaces. It has thermostatic control in the winter so that it can automatically heat to the comfortable and natural temperature. It also uses WIFI, which enables users to operate it with an app and automatically set heating or cooling in advance using Dyson Link app. Additionally, it's compatible with Amazon Alexa which can turn it off and on, turn on automatic detection, and more.
Although at first sight, this heater seems to be a device from dreams, it's worth noting that it's extremely expensive and should appeal to homes that have the utmost necessity for this feature.
Pros
Adjustable, automatic controls, WIFI, air purifying, supports both heating and cooling, compatible with Amazon Alexa
Cons
Extremely expensive, the warranty is too short for such expensive products.
2. Dyson AM09 Fan Heater – best energy-efficient heater overall

Price: $$$
Type: Fan-heater
Heat-output: 18,000 BTU
Warranty: 2 years.
Dyson AM09 is one of the most functionally-enabled as well as multi-purpose fan heaters you can find on the market, and it is equipped with a plethora of functionalities that make up for a cozy and comfortable home. It can work all-year-round because its fan can spread the heat but also work strong enough to deliver cooling capabilities in the summer. This is great for those who can't afford air conditioners, or resources to get it.
Dyson is one of the most popular brands when it comes to delivering energy-efficient, yet reliable service. There is a powerful thermostat that takes care of the temperature and that consumers can easily adjust to their liking. Also, the heater was made with safety in mind, as its fan is encased and doesn't pop its sharp blades that can be dangerous for children or pets that sleep nearby.
Dyson AM09 is also equipped with Air Multiplier tech which also contributes to stable and uninterrupted airflow, which also boosts the efficiency ratings for this fan heater. Finally, if you have difficulties setting it up manually, there is a remote control that can help you adjust the heater accordingly.
Pros
Portable, heats and cools, protected fans, stable airflow
Cons
Relatively expensive, it takes too long to heat up.
3. Tenergy 900W/1500W PTC Ceramic Heater best budget energy efficient heater
Price: $
Type: Ceramic heater
Heat output: 5,100 BTU.
Warranty: 2 years
Tenergy 900W PTC Ceramic heater comes with a budget in mind and will appeal to small spaces that need efficient yet consistent hot airflow. It comes in two options, 900W and 1500W with a portable and lightweight design with sturdy design that makes it adjustable to mount to the wall and transfer around the rooms without occupying too much space. There is a 15-degree fan tilt which fixes perfect airflow so that all corners of the room are covered.
The low heat at 900W is more eco-friendly, while the 1500W option will provide consistent heat output and warm the room faster. Its sturdy construction also ships with a special protection functionality, which makes for the automatic shutdown in order to avoid a disaster. The overheating protection activates in case the internal temperatures of this ceramic heater reach above 179.6 degrees F. The ceramic heating element also contributes to fast and reliable heating and ETL standardization. The product also comes with a two years warranty, so it's really a worthy investment for the budget.
Pros
Portable, comes with two power options, fast, consistent, protection-backed
Cons
No intuitive display to display temperatures.
4. Sure Heat Blue Flame Space Heater
Price: $$
Type: Gas heater
Heat output: 30,000 BTU
Warranty: 1 year
Sure, Heat excels at creating products that vastly remind of oil radiators, although this one can be powered with liquid propane or natural gas, which is the most energy-efficient option offered in the list. It has a dual fuel technology that contributes to better customization and being more versatile in use. Additionally, use of gas will save your electricity bills. This vent-free heater is ideal for use indoors, and because it is equipped with gas, it won't take too long to heat up. It supports up to 1,000 square feet of reach and can be used for medium rooms, offices or workspaces.
If you want to save more space, Sure Heat Blue Flame can be mounted on the wall, although free-standing option is closer to the floor and provides more heating. In case something goes wrong this heater is equipped with automatic shut-down feature, although it doesn't come with a remote control to control it from afar. There is also an oxygen depletion sensor that works in a way that it shuts down in case the oxygen levels abruptly drop.
Pros
Various safety functionalities, portable, easy to use, boasts gas, customizable.
Cons
Lack of remote control, short warranty.
5. DeLonghi Safeheat Digital Ceramic Heater
Price: $$
Type: Ceramic heater
Heat output: 5,100 BTU.
Warranty: One year
Stylish and compact, DeLonghi Safeheat Digital Ceramic Heater can serve for multiple purposes, starting from leg or table heater, up to heating entire rooms and offices. It has a durable and stylish design, which makes it easily adjustable to any space. It is a ceramic heater, so it has a fast heating mechanism and creates durable warmth in the ambient. It is also equipped with a large and fast fan that blows heat and is silent in the process. Additionally, you can use the fan-only setting which also makes it eligible for summer temperatures.
It comes with two heating settings: Maximum and minimum, which are great if you want to adjust the heat in advance or make the heat output more eco-friendly. The maximal output is fixed at 1500-watts. If you want to adjust the temperature, there is a smart LED display with controls, although those controls are so hard to spot it might be annoying searching for the right settings. Luckily, there is a remote control, which makes temperature adjusting much easier to handle. Lastly, there is a 24-hour timer, which will shut down the device at the time you choose. The oscillation feature will also adjust the fan to blow at a certain direction, or widespread the warmth across the room.
Pros
Compact, powerful, heats fast, smart LED screen, 24-hour timer
Cons
Small controls on display, no special safety features.
6. Homeleader Electric Oil-filled Radiator Heater
Price: $$
Type: oil-filled radiator
BTU: N/A
Warranty: 1-year replacement and lifetime support.
Homeleader electric oil-filled radiator is a great option for those who prefer oil radiators over the bulky type of heaters. Although it resembles old traditional radiators, it is fully digitalized and has a variety of futuristic features that keep it running. It is colored in black and boasts a minimalistic design that makes it look more powerful compared to other, sort of bulkier heaters.
It is equipped with a large and intuitive LED display with a few buttons for you to set up the temperature. It runs with 1,500-watt power, which is more than enough to quickly heat up the oil inside of it and provide consistent heat output. The good part about oiled radiators is because they continue heating the room thanks to the hot oil even after the heat was turned off to save energy. The oil used for these heaters takes some time before it cools down. It is equipped with reliable wheels that help you stroll it to another room once you need to go to another room.
Pros
Minimalistic design, quick heating, reliable performance, intuitive LED display
Cons
No automatic 24-hour switch.
7. Aikoper Space Heater
Price: $$
Type: Oil-filled radiator
Heat output: N/A
Warranty: One year
Aikoper oil-filled space radiator is designed to meet all your demands and much more. It comes in three options, 600, 900, and 1500-watts, and ECO mode which is suitable for medium rooms and more energy-efficient functionalities.
It is equipped with a large LED display, which is easy to use and keep attention of. It is easy to move, set up and get to work, and additionally it is working without fan noise so it can be used even in the offices and bedrooms. There is 24 hours auto switch, which allows you to turn it on and off easily and remote control.
Finally, there is a safe technology that assures automatic shutdown in case of overheating or some other potential disaster. There is also anti-freeze technology to prevent freezing pipes, while there is also a protection from accidental damage towards pets and children.
Pros
A lot of safety functionalities, ECO-mode, stylish design, silent.
Cons
A little too bulky.
8. Lasko CC23150 Ultra Ceramic Heater
Price: $
Type: Ceramic heater
Heat output: N/A
Warranty: 3 years
Lasko's CC23150 is another ceramic heater with outstanding features at an affordable price. It comes with a stylish and portable design that allows it to be placed anywhere you want. In addition to that there is an adjustable thermostat with both high and low thermostat settings. If the buttons on the heater are too confusing, there is also a remote control that helps you adjust the right heating temperature.
In addition to previously mentioned features, there is also an easy-vacuum filter with a high efficiency and touch control operation system and wide-spread oscillation that helps you channel the hot air through the room. Finally, there is an easy-grip handle that helps you move it to other locations in the apartment or house when they require heating.
Pros
Stylish design, affordable, portable, adjustable thermostat
Cons
Lack of safety functions, a bit noisy.
9. Lasko 751320 Ceramic Tower Space Heater
Price: $
Type: Ceramic heater
BTU: 5000 BTU
Warranty: 3 years
If you're looking for a tower space heater, Lasko 751320 is one of the best energy-efficient heaters available at an affordable price and can be used in combination with more ceramic heaters, especially because of its approachable pricing.
It is equipped with a self-regulating ceramic element, so the temperature regulation is pretty much automatic. There is also automatic overheat protection and 1,500-watts of power. Given its performance it can cover about 300 square feet, although that's sort of low compared to other ceramic heaters. One of the cons is also that its display is relatively small and hard to access, although there is a good remote control.
Pros
Affordable, good safety features, remote control
Cons
No automatic switch button, inaccessible display.
10. EconoHome Wall Mount Space Heater Panel
Price: $$
Type: Convection heater
Heat output: 1365BTU
Warranty: 3 years
If you live in a large home, convection heater like EconoHome wall mount space heater is a great opportunity to save energy and reduce your heating costs. Its heat output can reach up to 300 square feet, while it's powered by 600-watts. It has ETL certifications, and it's easily adjustable and mountable on the wall.
It has hard wires, but safe and efficient technology which protects users from overheating or other electricity-related catastrophe. Also, its design is extremely durable, so you don't have to worry about some accidental cracks. It also has triple insulation, so it's maximally safe for use. Lastly, there is no fan that can dry out the air, so it's perfect for those who suffer from some chronic disease.
Pros
Durable, stylish, mountable, smart protection features.
Cons
Runs loudly
Tips for maintaining
Owning an efficient yet powerful space heater in itself isn't enough. It's important to take care of some additional problems like maintaining heat during the cold winter months. Below we listed things to consider when it comes to maintaining both heater and heat distributed across your rooms.
Regular cleaning – Heaters, especially if they have a fan and work on a constant basis, need to be cleaned and maintained. Cleaning will not only enhance its lifespan, it will also help avoid some disaster. It'd be best to clean it every couple of weeks to a month. Sometimes, disassembling the heater and delivering a proper clean-up may be necessary, but it's proved to be a good practice if you want to extend its longevity.
Heat reflection – If you own a convection heater or an infrared heater it'd be good to place foil on the wall behind it or somewhere around it, so the aluminum absorbs and reflects it across different locations at your home. The room will have a more effective healing process. This tip is perfect in instances where the heater is supposed to clean entire room that is larger.
Don't overheat – Keeping an eye at the thermostat is the key to keeping your heater at optimal performance. If you place too high temperature, the heater may shut down due to overheating or because it'll think it achieved much higher temperature than the one you set up for it.